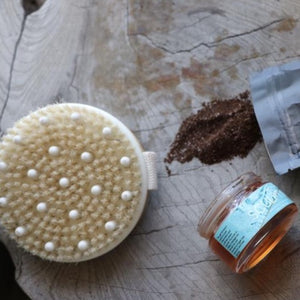 Scrub, Brush & Gel - Ultimate Detox
This combo includes three powerful detox methods that can be used as a three step treatment or individually for body and face.
-Sculpting Gel
-Dry Brush
-Coffee Scrub
Dry Brush: Stimulate your lymphatic system (your bodies detox centre) by brushing upwards from the feet towards the heart. Dry brushing is 'an essential – and energizing – skin-detox step that also gets rid of dead skin cells sitting on the surface of our bodies as-well as lessen the look and feel of cellulite.

Use on dry skin before a bath or shower.
Starting at your feet, gently brush upward towards your heart. Use firm, small strokes upwards—or work in a circular motion.
Brush for three to five minutes for optimum awakening and energizing. Particularly amazing pre-shower.
For added benefits, apply our sculpting gel and leave on for the duration of your workout or overnight.
Bio Sculpting Gel: This gel contains highly active plant extracts, such as: Retinol, Green Tea, Pineapple Extract, Ylang Ylang, Vitamin E, Horse Chestnut, Fennel, Peppermint, Willowbark and Neroli, Aloe Vera, Camphor, Carrot, Mallow, Ginseng, Papaya and Guarana.
Coffee scrub: Treat your face and body to our brand new coffee scrub! Get rid of dead skin cells and enjoy how soft and smooth your skin is once you have exfoliated. This coffee scrub can be used dry, can be mixed with water or alternatively can be mixed with your shower gel for a more gentle exfoliation in more sensitive areas. 

Suitable for body and facial use.